Inspired by the Tuscan hills and hand illustrated, the luxury gift collection tells the secrets of the culture of the local territory. A sensory journey through the simple and traditional nuances of a land that moves and surprises every day like in bygone times.
MORE INFO
available in fragrances:
Pomegranate
Citrus
Florentina Iris
Rose of May

LIQUID SOAP
Hand liquid Soap
500 ml – 16.5 Fl.oz.
CANDLE
Colored scented candle
160 g – 5.6 oz.
available in fragrances:
Pomegranate
Citrus
Florentina Iris
CITRUS
With organic orange extract
200 g – 7.0 oz
FLORENTINE IRIS
With organic iris rhizome extract
200 g – 7.0 oz
POMEGRANATE
With organic pomegranate extract
200 g – 7.0 oz
available in fragrances:
Rose Chamomile
Acacia Bergamot
Pomegranate Ginseng
LIQUID SOAP
Hand & body liquid Soap with honey and organic extract
500 ml – 16.5 Fl.oz
BODY LOTION
Body lotion with honey and organic extract
200ml – 6.7 Fl.oz
BODY SCRUB
Body scrub with natural perlite and organic extract
250 ml – 8.45 Fl.oz
LUXURY PLATED SOAP
Luxury plated soap with extract in sponge
115 g – 4 oz
available in fragrances:
Pomegranate Ginseng
Bergamot Acacia
Lavender Marygold
BERGAMOT ACACIA
Nourishing hand cream with organic acacia extract
75 ml – 2.5 Fl.oz
POMEGRANATE GINSENG
Nourishing hand cream with organic pomegranate extract
75 ml – 2.5 Fl.oz
LAVENDER MARYGOLD
Nourishing hand cream with organic marygold extract
75 ml – 2.5 Fl.oz
HAND CARE BOX BELLOSGUARDO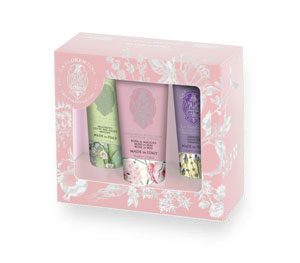 available in fragrances:
Rose of May
Lily of the Valley
Lavender
ROSE OF MAY
Nourishing hands cream with olive oil and organic rose extract
75 ml – 2.5 Fl.oz
LILY OF THE VALLEY
Nourishing hands cream with olive oil and organic whitehorn extract
75 ml – 2.5 Fl.oz
LAVENDER
Nourishing hands cream with olive oil and lavender extract
75 ml – 2.5 Fl.oz
available in fragrances:
Pomegranate Ginseng
Bergamot Acacia

POMEGRANATE GINSENG
Paperwrapped soap with organic pomegranate
200 g – 7.0 oz
BERGAMOT ACACIA
Paperwrapped soap with organic acacia extract
200 g – 7.0 oz